The Scottish Storytelling Forum
Founded to sustain, stimulate and support the live telling and sharing of stories amongst all age groups and all sectors of society, the Scottish Storytelling Forum is also the body that established and manages the Scottish International Storytelling Festival and is creative programming partner at the Scottish Storytelling Centre, where it's also based. In partnership with the Centre, the Scottish Storytelling Forum supports a national Network of storytellers involved in outreach projects with local authorities, environmental agencies, community centres and libraries, engaging with all age groups and diverse cultures of modern Scotland.
Through an all-year-round programme of live storytelling performances, theatre, literature, visual arts, workshops, courses and training events, as well as through the yearly Scottish International Storytelling Festival – at its 24th edition in 2013 – the Forum leads Scotland's contribution to a worldwide revival of interest in storytelling and storytelling traditions.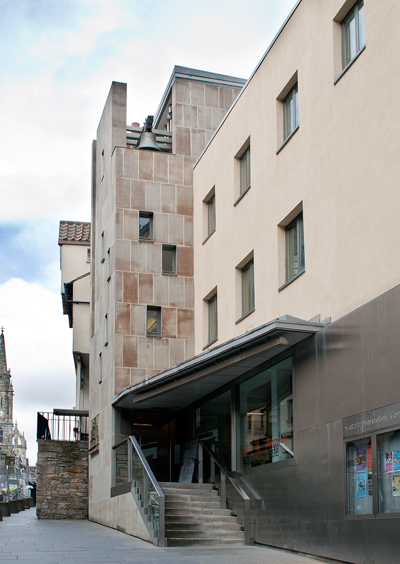 Role in the Seeing Stories project
The Scottish Storytelling Forum will deliver a series of activities relevant to Scotland, particularly focusing on the Scottish International Storytelling Festival 2013 and 2014 and the development of creative Storyguides and storytelling models.
The Scottish urban location relevant to the project is represented by Edinburgh, particularly the Calton Hill, the Netherbow and the Canongate – areas that are located at the heart of Edinburgh's Old Town, where the Forum and the Scottish Storytelling Centre are also based.
The rural location is represented by the Scottish Borders and the Tweed valley, rich with landscape lore that also inspired the work of Sir Walter Scott and James Hogg. The project will also aim to link to the Isle of Skye, where the storytelling connection between Gaelic lore and landscapes is already very well developed.
As lead partner the Scottish Storytelling Forum is also in charge of the general coordination of the project.
Storygardenz
The project began as a discussion between Storygardenz and the Scottish Storytelling Forum to develop Storyguides for a series of European regions. But when the project began, it was realised that adopting a general model from the beginning of the project would have been too irrespective of the specific needs of the localities involved, which necessarily had to come first. In spite of such deviation from the original plan, Storygardenz contributed to the project publicity and to the networking with international project stakeholders, also raising project partners' awareness on the benefits of liaising with estate and property owners. The storyguide model was developed by Storygardenz in four different Italian regions, by concentrating on local themes with a global outreach, connecting other European regions, which may be picked up on a future occasion. The potential benefits were seen both in terms of transnational community building and practice of peace, awareness of environmental interdependence and storytelling based marketing to serve cultural tourism and local excellence production.